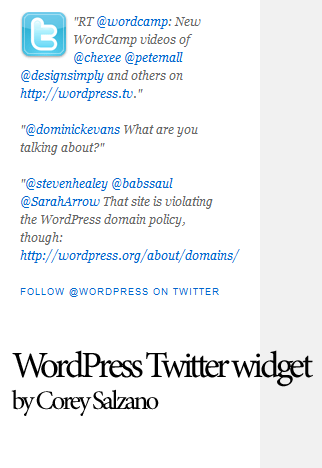 Discontinued! This plugin is dead, details here.
I made a WordPress widget to display latest Twitter updates for any Twitter user in a WordPress website's sidebar. A widget is activated just like a plugin on any "widget ready" theme and can be positioned within the sidebar using the drag and drop Widgets page in the Administration Dashboard.
Links @usernames, #hashtags and URLs
Displays up to 20 twitter updates
Works for any username with public tweets
Does not require twitter password
CSS friendly element IDs
Requirements to run
WordPress version 3.0.0 minimum (MySQL 5 + PHP5)
json extension for PHP
This project is based on some code written by Ryan Barr. I added some sauce and already have a nice idea of where the next version will progress. Thanks for introducing me to the twitter API, Ryan.
PHP5 required
This will be the last version of this plugin that runs uses PHP4's DOMXML object. All future versions published to this plugin's page on the WordPress Plugin Directory will be PHP5 only. Click here to download the last PHP4 compatible build from my server, version 0.100210 of this plugin.