I wrote a WordPress plugin that displays a small collection of site stats in a sidebar widget. Here is a screen shot of sample output:

Widget options screen shot
The widget includes a control panel to change the title and format the HTML that is inserted before and after each numerical stat.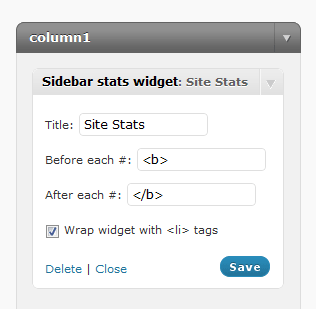 Installation Instructions
Decompress the file contents
Upload the sidebar-stats-widget folder to a WordPress plugins directory (/wp-content/plugins)
Activate the plugin from the Administration Dashboard
Open the Widgets page under the Appearance section
Drag the Sidebar Stats Widget to the active sidebar
Configure the widget options to suit your needs and click Save
WordPress.org plugin page
This plugin is in the official WordPress Plugin Directory here.